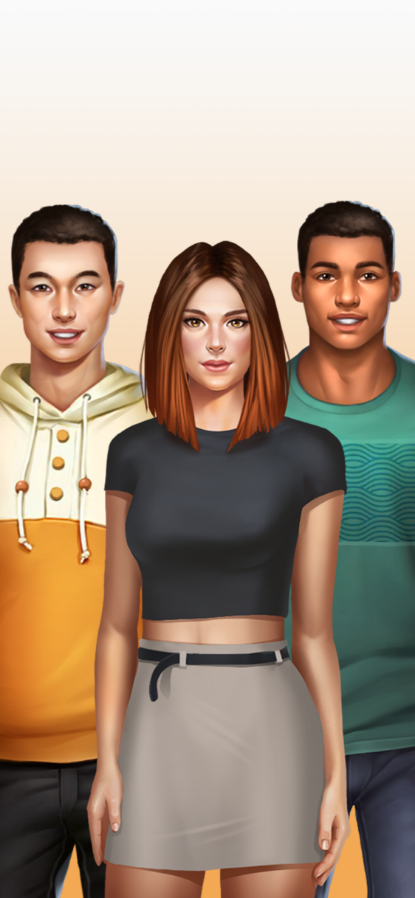 What is Paths?
Paths is an interactive storytelling game that allows you to choose your own adventure and influence the story through your choices.
Explore original and exciting tales. Navigate love, mystery and adventure. Meet new characters and visit new places. The choice is yours, what path will you take?
Available on iOS and Android devices today!
Our Stories
Desert Island
Will you choose love over friendship? Will the drama get in the way of your survival? How will you get off the island?
15 chapters
Desert Island
Operation: Senior Year
Being a secret agent is tough, do you have what it takes? Who can you trust and who will betray you? Can you solve the mystery and save the world?
15 chapters
Operation: Senior Year
Pirates of the Green Sea: Part One
Set sail on the adventure of a lifetime. Will you find the cure and save your people, or will romance and infighting be your downfall? The fate of Maura lies in your hands.
10 chapters
Pirates of the Green Sea: Part One
Making the Cut
When an exciting opportunity comes knocking, there's only one option. Pack your bags and head to London in pursuit of your dreams. Can you rise above the lies and deceit to secure the job.
5 chapters
Making the Cut
Pirates of the Green Sea: Part Two
After a perilous journey, you've finally made it to Oroa. But can you secure the cure and make it home? The easy part is over, now the real adventure begins.
9 chapters
Pirates of the Green Sea: Part Two
The Underground
Aplistia is the last utopia in a desolate world. Saved only by a yearly sacrifice to keep the underground creatures away. And this year. Your name is drawn from the ballot.
15 chapters
The Underground
Trapped in an App
Stuck in detention with a group of people who hate you? Only one thing you can do. Get stuck in an app instead.
15 chapters
Trapped in an App
Buried Dead or Alive
What do you do when you wake up in a strange land, with a strangers' face? Find out who you are and how you got there.
15 chapters
Buried Dead or Alive
Cabin Fever
There's nothing worse than spending your weekend doing school work with former friends. Except maybe, being trapped in a desolate cabin with them.
Coming soon
Cabin Fever
FAQ
I've never heard of Paths before, where do I start?
Can I play Paths in a different language?
How do I earn more gems/keys?
Why do I need to sign in through Facebook?
I bought Gems/Keys, why aren't they in my account?
When can I read the next chapter?
When did Paths launch?
Who are the Paths creators?
Have a good story idea you want to see come to life?